"If you want to limit your exposure to energy from cellphones, use a headset or the speaker while talking on the phone, and don't keep the device flat against your body, such as in a pants pocket."
http://blogs.wsj.com/briefly/2016/05/27/5-things-things-to-know-about-the-cellphone-cancer-study/
---
Ref: http://www.wsj.com/articles/cellphone-cancer-link-found-in-government-study-1464324146
Multiyear, peer-reviewed study found 'low incidences' of two types of tumors in male rats exposed to type of radio frequencies commonly emitted by cellphones
A major U.S. government study on rats has found a link between cellphones and cancer, an explosive finding in the long-running debate about whether mobile phones cause health effects.
The multiyear, peer-reviewed study, by the National Toxicology Program, found "low incidences" of two types of tumors in male rats that were exposed to the type of radio frequencies that are commonly emitted by cellphones. The tumors were gliomas, which are in the glial cells of the brain, and schwannomas of the heart.
"Given the widespread global usage of mobile communications among users of all ages, even a very small increase in the incidence of disease resulting from exposure to [radio-frequency radiation] could have broad implications for public health," according to a report of partial findings from the study, which was released late Thursday.
---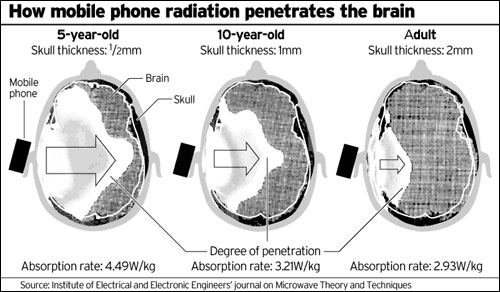 ---